For youth aged 0 - 17 years
---
FNBy
An easy day-to-day account that helps you gain financial
independence as your responsibilities increase.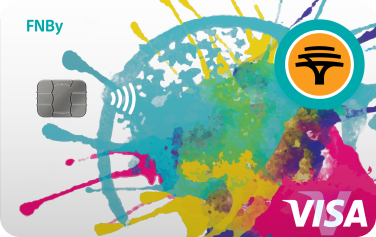 What you get
---
Your very first transactional account
It's the smart solution to enable you to gain confidence with money and learn financial responsibility now that you're becoming more independent, with financial decisions forming part of your life.
The FNBy Transactional Account is a fully transactional account that is opened and linked to a parent account. Your FNBy account gives you access to all our digital channels: online and the app, as well as at FNB ATMs and branches.
With a minimum balance of P100 and a monthly fee of only P7.50, we offer you a huge range of free functionality making banking easier and more worthwhile:
Unlimited electronic payments and transfers

Free, unlimited swipes locally, for everyday purchases

Two free ATM withdrawals

Free cash deposits at dedicated cash deposit ATMs

Secure notifications on the FNB App with Smart inContact so you have full control of money going in and out of your account.
Simple account management
---
It's easy, secure + subscription is FREE
Manage your accounts on the go, wherever, whenever you want with any of our digital banking platforms!
Applying made easy
---
FNBy Transactional Account
Qualifying criteria
Open to citizens and non-citizens of Botswana

Clients must be younger than 18
Documents needed
Guardian's ID document, proof of income and proof of address

Minor's birth certificate if younger than 16 (ID if 16 or older)
First National Bank of Botswana Limited - Registration number CO.001119.