Future Forward
Account
Future Forward is an ATM card for children under 17 years. It gives them
easy access to their savings through our ATM network.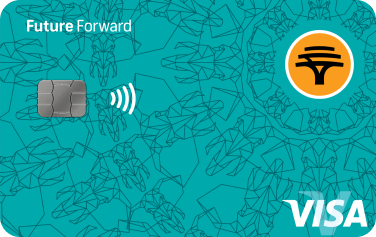 A minimum balance of P0 is required
Empower your child

Monitor spend anytime

Free transactions
What this is
---
Banking that empowers your child
---
As a parent/guardian, the Future Forward Account:
Provides children with money management training

Takes some of the financial burden off your shoulders

Provides a secure storage for savings

Offers a PIN (personal identification number) that provides high levels of security

Can be used to transfer pocket money easily from your account

Allows you to cancel lost or stolen cards at any branch, and a new card and PIN will be issued immediately
What I can do
---
Banking services that empower you

Bank anytime
Deposit / withdraw money at any time using FNB ATMs

Pay less for more
Get the first 4 transactions per month free

Get statements anytime
View an up-to-date statement whenever you want using FNB digital channels

Register for inContact
A free messaging service to inform you of all transactions on your account via sms and/or email.

Save on bank costs
Pay minimal charges on the account

Earn interest monthly
Count on the fact that interest is calculated on a daily balance and credited to your account monthly
Read more
Getting it made easy
---
Future Forward Account
Qualifying criteria
Children need to be under 17 years to qualify
First National Bank of Botswana Limited - Registration number CO 91/329