Smart Account
The FNB Smart Account gives you access to the world of banking innovation by providing services that make handling your finances simple.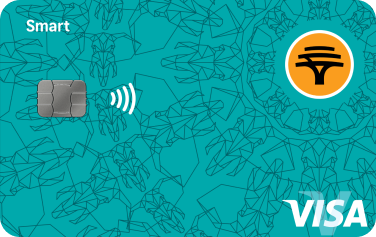 A minimum balance of P0 is required
Get bank cheques

Access to loans

Flexible pricing option
What this is
---
The smart way to bank
---
Smart Account is more than just an account. It also enables you to set up stop and debit orders for regular payments, as well as apply for loan finance.
If you don't yet qualify for the Gold Account, this could be the product for you.
What I can do
---
Smart meets convenience

Choose what you pay
Easy and convenient banking with a pricing option that suits your banking needs

Pay with cheques
Get bank cheques if required

Make secure payments
Save and make payments in a number of secure ways

Access funding
You can apply for a FirstLoan facility

Automate your payments
Stop orders and debit orders can be set up

Save your change
This account gives you an option to Bank Your Change™ every time you swipe.
Read more
Bank with ease
---
Smart meets simplicity

Cardless withdrawals
Get instant access to your money without a bank card using our digital banking channels

Pay to cell
Pay FNB account holders using their account number - no need to have account details

Pay to eWallet
Send money to family and friends who don't have bank accounts straight from your account

Hassle-free payments
Use online platforms to set up stop orders and debit orders to pay regular monthly bills

Free Digital Banking
Free subscriptions to inContact, FNB Cellphone Banking, Online Banking and the FNB Banking App.
Read more
Getting it made easy
---
Smart Account
First National Bank of Botswana Limited - Registration number CO 91/329