Business Fixed Deposit
---
Fixed competitive returns
The Fixed Deposit is for individuals or businesses that want to invest money for a fixed period at a set interest rate. A minimum amount of P1 000 can be invested for periods ranging from 1 to 24 months.
What you can do
---
You have a choice
---
On maturity you can choose one of the following options:
The capital sum plus interest could be paid to you

The capital sum could be reinvested and interest paid to you

The capital sum plus interest could be reinvested

Choose period
You have a choice of different investment periods: 1, 3, 6, 12, 18 or 24 months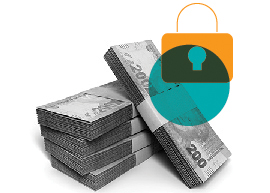 Secured interest
Your investment is secured at the interest rate current at the time of investing

Calculate investment
You can calculate how much you will receive at the end of the investment period

No ceiling
There is no ceiling to the amount you can invest

Interest paid
Interest is payable on maturity

Request interest
For amounts in excess of P1 million, you can obtain the interest rate from our Treasury Division
Getting it made easy
---
Business Fixed Deposit
Qualifying criteria
Minimum opening balance of P1 000 is required.
First National Bank of Botswana Limited - Registration number BW00000790476.